Particle Illusion delivers easy-to-use motion graphics and particles that render at lightning speeds
Boston, Massachusetts, U.S.A — June 17, 2020 — Boris FX's popular real-time GPU-based particle generator is now available as a free Particle Illusion Standalone application. The plugin version, which supports Adobe, Avid, and OFX hosts, remains part of the Boris FX Continuum package.
The new product release gives motion graphics designers, visual effects artists, and video editors access to thousands of professionally-designed, drag-and-drop particle emitters.
Particle Illusion's massive Emitter Library features photorealistic effects to easily add explosions, fire, smoke, dust, snow, fireworks, abstract organic elements, and even retro video game-inspired graphics to titles, lower thirds, and motion backgrounds. Users can choose to render out a preset as is or tweak parameters to create custom animations.
The Particle Illusion 2020.5.1 release adds the ability to "pre-render" particle effects as exported ProRes movies on Windows and Mac platforms. The new ProRes export makes rendering complex particle animations directly inside the Particle Illusion Standalone or plugin much faster than rendering within a host application. Exported movies can be added to any NLE or compositing project for real-time playback. In addition, projects saved in the Particle Illusion Standalone can be used inside the Continuum plugin to render in any host.
"Particle Illusion's preset-based particle system will come in handy in every editor's and compositor's toolbox. We decided to release the fantastic standalone application free-of-charge to help out the many artists who might not otherwise be able to afford new software due to the COVID-19 pandemic," says Boris Yamnitsky, Boris FX, Founder and CEO. "To facilitate this new standalone workflow, we've introduced export to ProRes, an industry-standard intermediate codec. In addition, Particle Illusion's saved emitter libraries and projects can be freely shared among users of the plugin and the free Particle Illusion Standalone application."
"The free Particle Illusion Standalone democratizes particle creation. It's a huge win-win for editors, artists, and anyone new to particles," states Alan Lorence, former Wondertouch Founder and Particle Illusion Product Manager. "Particle Illusion now supports the latest OS versions, has a modern UI, is faster and more usable than ever, and will continue to be developed and released in future free updates. The initial free release is just the beginning!"
To help users get up-and-running quickly, Boris FX is also releasing free training to go along with the launch. The training series offers top tricks and tips on how to best take advantage of Particle Illusion's many creative options. "We've created a comprehensive series that takes new users from a basic understanding of the interface and presets to creating custom compositing elements and motion backgrounds," says John Dickinson, Director of Motion Graphics. "The series is perfect for anyone just starting out in post-production or pros looking to update their Particle Illusion skills."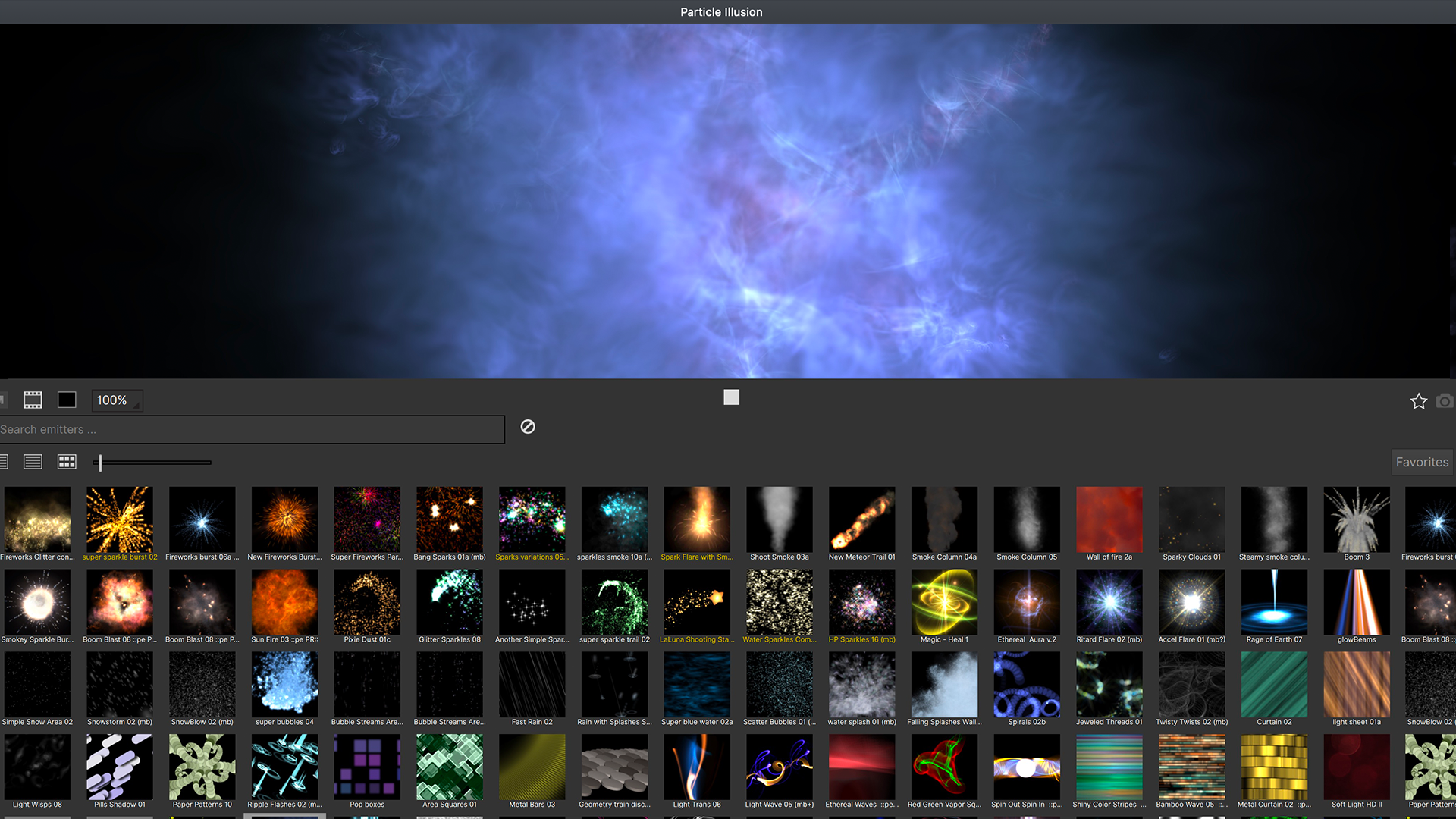 Boris FX Particle Illusion Standalone — Emitters
Particle Illusion Standalone Features
2500+ professionally-designed particle presets
Unlimited hardware-accelerated particles
Unlimited particle emitters
Add forces and deflectors to create organic movement
ProRes rendering with alpha
Integrated motion blur
Supports up to 8K projects
Users looking to further streamline their motion graphics/particle workflows have multiple options to purchase Particle Illusion as a plugin (Adobe, Avid, Apple FCP X, OFX hosts). Particle Illusion is included in the full Boris FX Continuum suite (prices vary by host) and is also available as a multihost Continuum Premium Filter ($295) or within the Continuum Particles Unit ($399).
Particle Illusion's plugin options give users added-benefits such as the ability to view and composite particle animations directly over source footage, award-winning Mocha planar tracking and masking tools, the audio-driven Beat Reactor tool, and more. View comparison chart.
Learn more about Particle Illusion
About Boris FX
Founded in 1995, Boris FX is a leading developer of VFX, compositing, titling, video editing, and workflow tools for broadcast, post-production, and film professionals. Boris FX products have grown to serve over a million artists worldwide. The company's success lies in its ability to tightly integrate and leverage technologies through strong partnerships with Adobe, Apple, Avid, Blackmagic Design, Autodesk, Foundry, VEGAS Pro, and other leading developers of video editing software. In 2014, Boris FX acquired Imagineer Systems, the Academy Award-winning developer of Mocha planar tracking software. In 2016, Boris FX acquired GenArts, the developer of Sapphire, the gold standard plug-in package for high-end visual effects, and the 2019 Engineering Emmy Award winner. In 2019, Boris FX acquired Academy Award-winning SilhouetteFX and Digital Film Tools for advanced feature film rotoscoping, painting, and effects.