One of the problems any video editor faces is workflow. Creative work often requires that you work without interruptions. That means you shouldn't have to jump from one separate program to another in order to follow your creative ideas. Having to deal with a problem that might pop up between two separate programs kills your creative flow. It's happened to me many times and I always grind my teeth in frustration.
VEGAS Post from Magix is a great way to solve this workflow problem because it's composed of three separate video editing suites: a video editor (VEGAS Pro 17), an effects editor (VEGAS Effects), and an image editor (VEGAS Image) that all share the same DNA. These three programs allow you to move from one part of your video editing process to another seamlessly. Vegas Post saves time and energy and, most importantly, allows you to get on with the job of creating.
For many years the VEGAS line of editing products was owned by Sony. They did a good job of developing the program (releasing 13 versions of the program) into one that had a wide and devoted user base. However, in 2016 they sold the program to Magix who has taken over the development of VEGAS. They've released 4 versions of the program which currently stands as VEGAS Pro 17.
Let's look at each editing suite element first.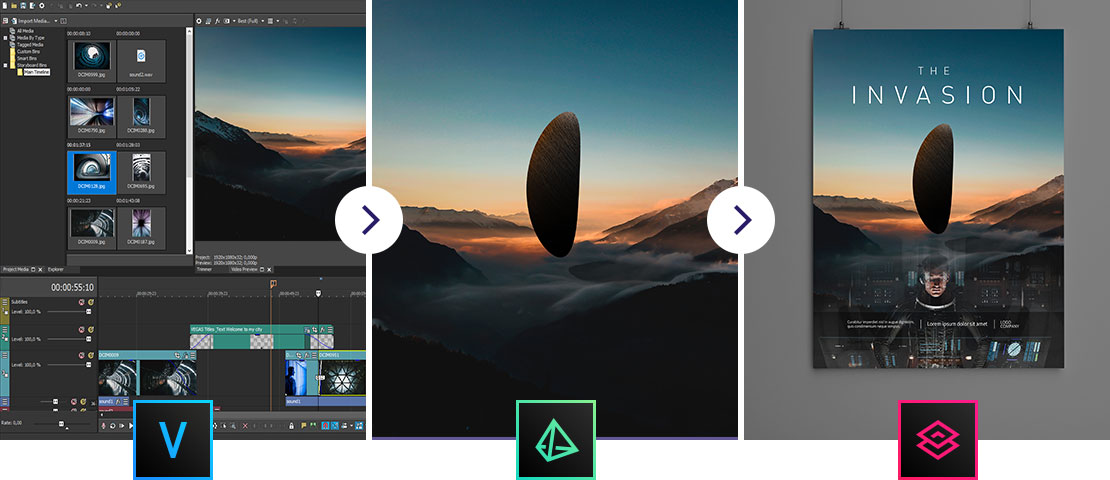 VEGAS Pro 17
The original Sony Vegas succeeded because it fit into that middle ground between beginner and professional. Vegas Pro 17 continues that tradition but moves towards the professional market. In fact, VEGAS Pro has been used to edit Hollywood feature films like The Invasion and Paranormal Activity.
By providing more professional-level tools, VEGAS Pro hasn't forgotten its roots. The editor is still intuitive, fast, and easy to use. While the interface takes a bit of getting used to if you've come from another editor, everything is smartly organized and benefits from an excellent keyboard short system.
Editing with VEGAS Pro 17 is very fast. I recreated a weekly 3-minute video which usually takes me 90 minutes in only 60 minutes and that's starting from scratch for every title and edit. Without going into a detailed workflow, here's an excellent short video on Vegas Pro 17:
VEGAS Effects
This application is primarily used for creating VFX in your edited videos. Magix used technology from HitFilm to create Vegas Effects. It is an extremely powerful effects editor that is simple to use and filled with pre-created effects that are essentially drag-and-drop. If you want to take your videos to the next level by replacing parts of your video, adding effects life fire and snow then VEGAS Effects is your application. There are over 800 filters and effects that come with VEGAS Effects.
I had little trouble learning the workflow of Vegas Effects. It was easy to import my footage from Vegas Pro to the timeline. A right-click gives you access to the effects you want to compose be it color-correction, match-moving, or a specific effect like fire. Vegas Effects allows you to have nearly unlimited layers and the viewports are fast. You can import .fbx models easily into a fully 3D environment for editing. Amazing!
VEGAS Image
I actually started out with this application and loved it. Having been a Photoshop user for decades, I found VEGAS Image to be a refreshing change. With VEGAS Image you can create pro-level composites with unlimited layers, use automatic keying with zero baked-in changes. VEGAS Image is the first photo editing software to keep your image data RAW and your layers self-contained. It is a perfect compositing tool that compliments Vegas Pro and Vegas Effects.
Dehaze and LUT support are just a few of the 38 filters that come with Vegas Image. Workflow is easy and fast. I found myself using Vegas Image for all of my image editing work. Plus, it's a lot of fun!
VEGAS Pro 17
Nested timelines for high-speed workflow
Complete HDR Color workflow
Planar Motion Tracking
Optical-Flow Slow Motion
Mesh Warp distortion correction
Full-featured version of VEGAS Pro (third-party effect plug-ins excluded)
GPU accelerated decoding for AVC/HEVC
VEGAS Effects
Over 800 effects and filters
Particle generators for magical effects
3D model rendering
Green Screen removal
Muzzle Flash generator
Video scopes for accurate color analysis
VEGAS Image
Built-in keying tools like Chroma Key
Professional Compositing tools
Easy color adjustment
Dozens of powerful image filters and effects
LUT support
Flexible layer access and adjustment
Final Thoughts
VEGAS Post is an amazing suite of professional video editing and effects tools. The applications are beautifully integrated and self-contained. I found VEGAS Post to be relatively easy to use and above all FAST! A lot of thought went into combining these applications. I think if you are a medium or advanced video editor you could not do better than VEGAS Post. From a simple YouTube video to an A-level film, VEGAS Post will make your work easier and faster. Plus, by reducing the possibility of interruptions in your workflow, you are more creative and able to finish your work with greater speed.
It's fascinating to me that VEGAS Pro began as an audio editing application that grew into a video editor as well. Not only does VEGAS Pro 17 (the current version) have an awesome audio editing component, but video editing workflow is like that of an audio editor. I like this very much as audio has always been a bit neglected in many video editors. At least the kind of audio focus that I enjoy working with. VEGAS Pro 17 gives just as much weight to ease of editing with audio as it does for video.
Magix has done a great job with VEGAS Post, but there is still room for improvement. Parts of VEGAS Pro seem slightly dated. The UI needs to be cleaned up a bit and some sections (most notably Titles) seem to have s different look that other parts of the program. The biggest issue with VEGAS Post is the price, although compared to other editing suites it is not so bad. If Magix wants to hold onto that mid-level user then a better perpetual license price would be more appealing.
Note: On April 21 at NAB 2020, MAGIX/VEGAS Creative Software announced a new version of VEGAS POST, with updates to VEGAS Image and VEGAS Effects. These two products, part of the VEGAS POST suite, are the products that FXhome has developed specifically for VEGAS Pro and are seamlessly integrated. These updates came too late to be included in this review, but we will be posting a separate update to let you know about the new changes.
How to Purchase
VEGAS Post comes in two flavors: you can buy a perpetual license for $999 or choose a monthly subscription for $20.99 per month (valid until April 29, 2020, after that date it's $49.95 per month). Note that the subscription version of Vegas Post is called VEGAS Post 365.
Thanks to Magix for providing a copy of VEGAS Post for review.
Links: