May 2019 – Today, Lightmap announced the immediate availability of the latest version of HDR Light Studio - Tungsten.
The Tungsten release adds 'Composites' to its feature set, allowing users to group lights, to mask and add effects to individual lights and much more. In addition, the way HDR Light Studio is packaged and priced has also been refreshed with a new product range. Introducing HDR Light Studio - Indie, Pro and Automotive.
Composites
Composites are a major new feature benefitting all users of HDR Light Studio.
Previous versions of HDR Light Studio had a single Light List. The lights in the list are composited together using their blend modes and the final result is what you see on the HDR Canvas image. With the new 'Composite Content' type in the Tungsten release – we have expanded this concept. Now a light can get its visual appearance from a nested set of HDR Light Studio lights that have their own Light List and Canvas. The composited result of these lights is the texture used on the parent light.
You can use Composites to:
• Group Lights
• Control a group of lights (brightness, position, color etc)
• Store Multiple Lighting Designs in one HDR Light Studio project
• Isolate and Edit Individual Lights
• Mask Lights
• Clone and move areas of the HDRI map
• Combine different regions of multiple HDRI maps
• Dissect and take control of light regions in existing HDRI maps
Previously HDR Light Studio had a single Light List where every light affects everything beneath it. For example, you could not brighten the edge of a light using another light without this brightening effect spilling over the surrounding area. Using Composites, you can now isolate a single light and edit it using other lights, to boost brightness or to mask/cut it. This enables lots of new possibilities in HDR Light Studio.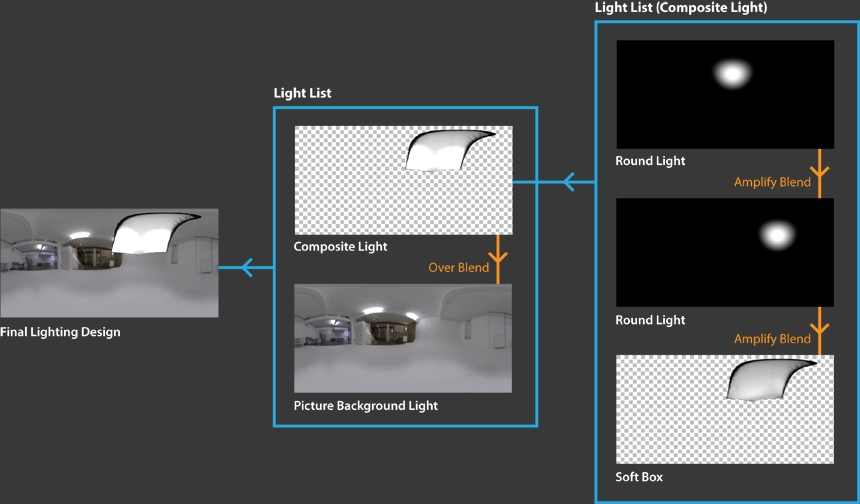 "The new Composite feature brings a whole host of new possibilities into HDR light studio. Want to move your sun up a bit without touching anything else? Easy! Want to splice together multiple HDRIs? Piece of cake! Want to just group lights together for organization? Now you can! The ability to layer, mask and alter individual lights is a huge boost for both creative and technical control over lighting setups and is a very welcome feature to what is already a cornerstone in my pipeline."
Brendan McCaffrey (www.bmcaff.com)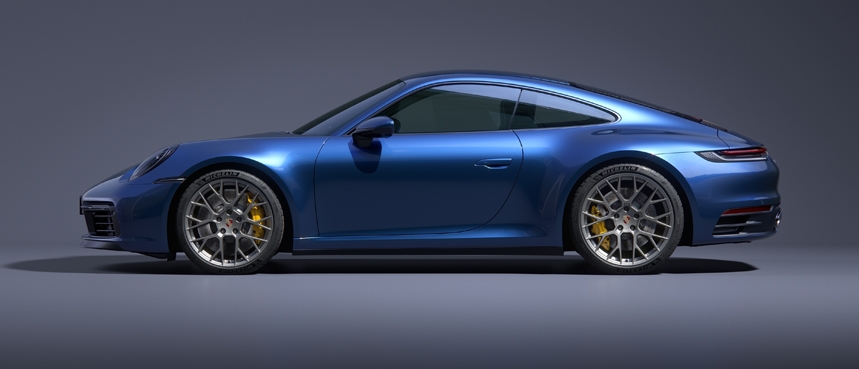 "The new composite feature in Tungsten is a game changer. Create a light shape that enhances your object, make it a composite, and drop in an HDRI map and reveal its sweet spot - for me it's a 90% faster workflow."
André Matos, 3D Artist PORSCHE AG bei Copyright Communications GmbH
You can learn how to use Composites in HDR Light Studio watching this video: An Introduction to Composites
We have also created a series of video demonstrations showing how to use Composites to tackle the following lighting tasks:
Enhancing a Single Light
In this demo, we add hot spots to an overhead softbox that is lighting a car. We do this to give the reflection seen in the car a more dynamic and interesting appearance. We use Composites so that the hot spots brighten just the softbox and they do not spill over onto other areas of the HDRI map.
Watch the demo video here: Enhancing a Single Light

Studio Lighting blended with an HDRI map
In this demo, we light a shot with typical studio style lighting. We then use Composites to use that lighting as a HDRI mask through to a loaded HDRI map. This provides the control of the studio lighting and incorporates the character and interesting reflections that come from the HDRI map.
Watch the demo video here: Studio Lighting Blended with a HDRI Map

Windows through to an HDRI map
In this demo, we light a still life shot using Window Gobo lights. We then use Composites to use those windows as a mask through to an outdoor HDRI map. This provides window lights that can be perfectly placed in the reflections, with the character of the outdoor HDRI map showing in these reflections and coloring the light. The outdoor HDRI map can be rotated or changed to alter the lighting effect.
Watch the demo video here: Windows through to an HDRI Map

Mixing regions of different HDRI maps
In this demo, we blend regions of 2 different HDRI maps into a single lighting design using Composites with soft lights for masking. Mixing HDRI maps in this way enables new creative lighting possibilities.
Watch the demo video here: Mixing Regions of different HDRI Map

Moving a region of an HDRI map
In this demo, we load an outdoor HDRI map to light the side view of a car. We use Composites to define a region of the HDRI map and then move this region to produce a more flattering reflection in the car.
Watch the demo video here: Moving a Region of an HDRI Map

Controlling lighting in existing HDRI maps
In this demo we load an interior HDRI map that includes a selection of Windows and Lights. We use Composites to separate the ambient lighting effect of the HDRI map, and to create individually controllable light sources. The result is an identical HDRI map, but with the ability to individually adjust the brightness of each light source. You would want to do this to gain more creative control over the lighting effect of the HDRI map. For example, removing unwanted lights, boost the brightness of a lights, or balancing the lighting.
Watch the demo video here: Controlling Lighting in Existing HDRI Maps


HDR Light Studio - Indie, Pro and Automotive
Lightmap have changed the way we sell HDR Light Studio with the new Tungsten release. The new product range bundles HDR Light Studio, a collection of Connections and Support into a single product. For many customer scenarios these new license models are lower cost and provide more value for money. The included Connections means customers can use HDR Light Studio with a wide range of 3D software without having to justify any additional Connection purchases.

Indie, Pro and Automotive include HDR Light Studio and the following Connections: 3ds Max, Maya, Cinema 4D, MODO, LightWave3D, Houdini, Maxwell Studio, Rhino 3D, Octane Standalone, SOLIDWORKS Visualize. Automotive additionally includes the VRED, DeltaGen and Patchwork 3D Connections.
This is the first time Lightmap has offered a low-cost Indie license for HDR Light Studio and we are excited to see what our new Indie users will create with the software. The Indie software is fully functional and not restricted in any way.
Existing HDR Light Studio and Connection licenses are compatible with HDR Light Studio Tungsten. If you have a Subscription or a Permanent license with up-to-date Maintenance – download and update your software today. You will be entitled to run the software using the licenses you have already purchased. Existing permanent licenses can be maintained as usual moving forward. Existing customers can read more here.

Added Support for these Connections
3ds Max 2020
Maya 2019
MODO 13
Houdini 17.5
LightWave 3D 19
DeltaGen 2019 (and the x-builds)
Availability
HDR Light Studio Tungsten is available to try and buy today. For pricing please visit our updated store.